Maps
Tribes from throughout the country were moved to one of nine "centers". With the political feaver for Termination in the background, Tribes were broken up. One of the central concepts behind Relocation was integration into white society. Keeping Tribes together was seen as a threat to integration. Cleveland, for example, became home to over 40 different Tribes.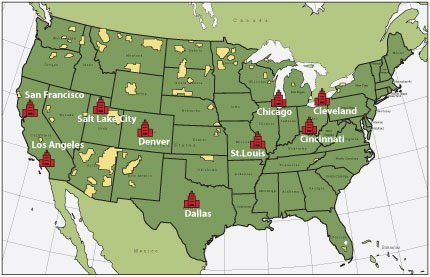 Relocation Centers and Reservations, c 1956; Click image to enlarge
With two centers (Clevleand and Cincinnati), Ohio was an important part of Relocation. These cities were chosen for their diverse industrial bases as well as the fact that there were no tribal areas or reservations in, and near, the state. The dual purposes of Termination and Relocation (end of ethnic identity and job training for industrial society) could be accomplished in these areas.
The series of maps (to come) below show the extent of "Indian Removal" from the Ohio region from the time of European trade and settlement to 1842, whe the Wyandott Reservation was abandoned, marking the end of organized tribal life in Ohio (until the American Indian Movement in the 1970s)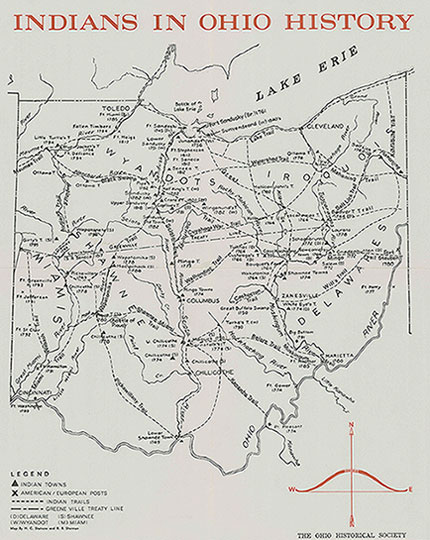 Ohio Historical Society Map Courtesy of The American Indian Education Center; Click image to enlarge.